Changzhou Jianlian Reinforcing Bar Conjunction Co.,Ltd
JBCZ China rebar coupler factory Enterprise Introduction:
JBCZ was established in 1987,which has 30,000㎡ land area,20,000㎡ of building area that has land certification and property ownership certification which issued by Government.JBCZ company has 300 staffs,includes production department;domestic project site group;international trade department;international after-sales department;R&D department;enterprise culture department;clients complaint department etc.
From inner management to outer sales,from technology improvement to customer complaints,we put all our efforts in providing products with high quality and reasonable price that clients require.
During 30 years,we keep promise.We are the first specialist manufacturer who produce rebar coupler connection and machine in China.And also the first company who set rebar mechanical splice connection standard in China.
Not only produce products by ourselves,but also using our products directly.JBCZ has domestic emphasis construction team in China.Technician will make thread and complete rebar coupler connection in site.Improving products during using so that can provide highest quality products to clients without any worries.
1998 - JBCZ is the first reinforcement parallel thread connection construction department at site in China, with more than 500 technicians are specialized in service and technical guide at construction site in Chinese 12 key cities. At the same time, these onsite experiences and technologies have been used to the first standard for approval by Chinese Architectural Science National Standard Bureau in reinforcement mechanical connect national standard. As an individual, Mr. Li was applied to the producer of national standard for approval firstly in making Chinese national standard.
1998 - JBCZ went abroad firstly, cooperating with Sinohydro Bureau 8 Co.,Ltd and entering Gazi-Barotha Hydropower Station Project in Pakistan.
2000 - JBCZ became the only supplying factory in Chinese first nuclear power project, Qianshan Phase II and Phase III Nuclear Power Plant. Including rebar coupler connection, connect machines, onsite project contracting service.
2003 - JBCZ supplied Hangzhou Bay Crossing Sea Bridge, at that time, it was the first crossing sea bridge in the world, the total length is 36 km, specified rebar coupler connection, connect machine, and onsite project contracting service.
2005 - JBCZ was one of rebar coupler suppliers of the famous engineering project -Burj Khalifa Tower, the tallest building in the world.
2006 - JBCZ did OEM for international competitors in France and Thailand, became one of their rebar coupler and machine suppliers.
2006 - JBCZ became the supplier of largest and second construction company in Saudi Arabia, one of the supplier of Binladin Group and Arabatec Group.
2008 - JBCZ is a specified production factory by sales agent in Brazil, Argentina, Kuwait and Hongkong.
2012 - JBCZ is exclusive supplier of Mexico Commercial City, the tallest landmarks building in Mexico City.
2013 - JBCZ signed with the highest standards of implementation company in Europe, became rebar coupler supplier of AFCAB standard.
2014 - JBCZ added the CNC Production Line workshop, finished the automatic processing design of mechanical rebar coupler, satisfy the production requirements of the high-end clients.
2015 - JBCZ developed the European standard CE type automatic production machinery, became the professional manufacturer of manufacturing machines and rebar couplers.
JBCZ products have been to :
UAE,New Zealand, Mexico, Colombia, France, Canada, Australia, Poland, Russia, Ukraine, Brazil, Korea, Thailand, India, Singapore, Malaysia, Vietnam, Qatar, Kuwait, Iran, the Philippines, Ethiopia, Kuwait, Sudan, Pakistan, Zambia,etc.
Our annual productivity is that :
350 sets of mechanical equipment;
3,000,000 pcs rebar coupler
Shortest delivery time is that finishing production of one container within 1-5days.
JBCZ are readily if clients inspection is needed.JBCZ will provide best service,make production for you.Rebar parallel thread connection,cold press connection,rebar bridging connection,rebar taper thread connection,rebar nut-lock screw connection.We produce rebar coupler and machine by ourselves with honest price,highest quality.
JBCZ ---Our Plant
JBCZ established in 1987,who is the biggest manufacturer of rebar mechanical splice and pre-cast products and has 30 years history.
Annual productivity of rebar parallel thread coupler is 3,000,000 pcs.mechanical machine is 350 sets.JBCZ has 25 technical engineers who has over 20 years experience and over 200 staffs in workshop line.Management team and international sales team totally include 60 staffs.

JBCZ---Our workshop I
Installation workshop of upset forging parallel thread machine,rib peeling thread machine,taper thread machine,cold extrusion press machine

JBCZ---Our workshop II
Production workshop of upset forging parallel thread coupler,rib peeling roll stamping thread coupler,press coupler,taper thread coupler,screw coupler

JBCZ--- Our facilities
CNC automatic machine production line makes higher quality,which can meet rebar connection standard of American ACI-318,British BS4449 standard ,German DIN1045 standard ,French AFCAB standard.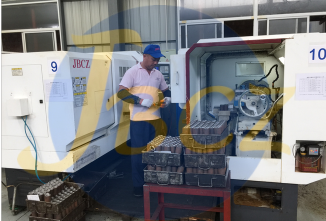 We have inspection equipments,100T(ton)tension test machine which controlled by computer.JBCZ will do tension test from each batch material to finished products.Rockwell hardness Tester and other over 20 sets inspection equipments and tools to check product quality and stability from whole aspects.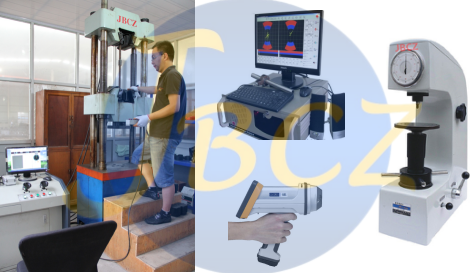 JBCZ has plenty of raw material inventory for parallel thread coupler connection.Will provide coupler with matched strength according to clients' steel bar connection quality and requirements.We can customize from specification to thread size.And we have coupler inventory according to Chinese JGJ107-2010,British BS4449,American ACI-318 standard.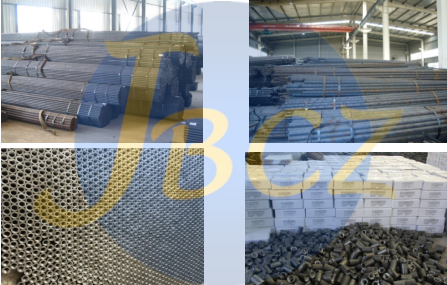 Upset forging paralell thread machine installation workshop:

Rebar coupler packing workshop:



International Trade department Tel: 0086-519-88612996
International Trade department Fax: 0086-519-88610996
International Trade 24Hours online mobile: 0086-18261196612
0086-18261196320
Mailbox: jb@jbcz.com