Hangzhou Bay Bridge
is a highway bridge with a cable-stayed portion across Hangzhou Bay in the eastern coastal region of China. It connects the municipalities of Jiaxing and Ningbo in Zhejiang province.
Construction of the bridge was completed on June 14, 2007,and an opening ceremony was held on June 26, 2007. The bridge was opened to public May 1, 2008, after a considerable period of testing and evaluation.The bridge shortened the highway travel distance between Ningbo and Shanghai from 400 km (249 mi) to 180 km (112 mi) and reduced travel time from 4 to 2 hours. At 35.673 km (22 mi) in length, Hangzhou Bay Bridge was among the ten longest trans-oceanic bridges.
The Hangzhou Bay Bridge is of the cable stayed bridge form. This form was chosen for this project because of the strength of the cable stayed bridge in adverse conditions. The bridge was constructed in the Qiantang River and Yangtze River Deltas and Hangzhou Bay, which all experience some of the highest tidal bore forces on the planet.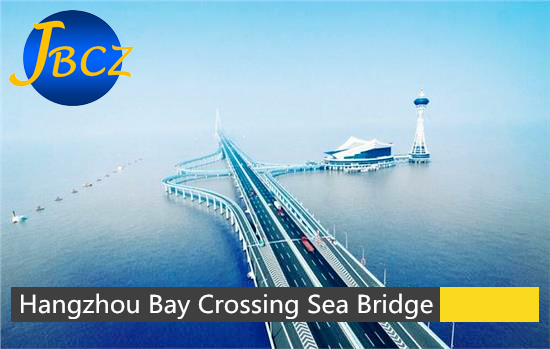 The location of the bridge is also prone to earthquakes, as well as extremely high winds during typhoon season. The bridge form and construction material selections were based on strength against all the different forces the bridge would face.
Many bridges use concrete piles to support the deck but the Hangzhou Bay Bridge took a different approach and used steel piles. This choice was made based on the fact that the steel piles would be much stronger against corrosion from the extremely high tidal forces in the bay. Using the steel piles instead of the concrete piles also made the bridge far more constructible especially in the extremely difficult working conditions that they would be facing. It is not strange to see waves in the bay reaching 25 feet tall. In these conditions it would be almost impossible to construct the bridge without the use of some new construction technology and vehicles. During the construction of the bridge two massive cranes were used, one being 2,200 tons and the other being 3,000 tons.These heavy duty cranes were used to transport massive girders from the shore to the part of the bridge where they would then lift it and put it into place. The steel piles used were also transported using these cranes.