JB-ZQ1740 Rib peeling roll stamping standard type
Machine process range:16-32mm rebar thread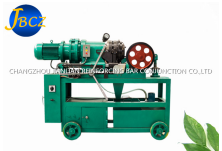 Rib peeling roll stamping machine is suitable for portable projects,it belongs to GradeⅡfor product quality ,it's can be able to equal to rebar metal strength and It's one of the popular machines among customer.
Processing method and connection application:
1.Use rib peeling roll stamping machine to process threads of the ends of the two reinforcing bar.
2.Use the matching coupler which made in JBCZ company to connect two reinforcing bars.
3.Finishing the connection of the two reinforcing bars within 30 seconds.
JBCZ have own testing room.For each coupler quality,we always do the tests from raw material to manufacture to the best finished products:
JBCZ rebar parallel connection coupler which matches with rib peeling roll stamping machine
1.Rib peeling roll stamping connection,100% equal to rebar metal strength,rebar connection belongs to the highest standard of the world,it meets the requirements of American ACI-318,British BS4449,Franc,etc.
The introduction of rib peeling roll stamping connection:
I Standard connection,this kind of connection is suitable for 80% projects.
II Reducing rebar coupler connection,it's suitable for the conversion between the floors.For example,basement uses 32mm rebar and on the floor uses 25mm rebar. At this time,we can choose this kind of reducing conversion coupler,one is used to connect 32mm,the other one is used to connect 32mm.It meets the requirements of the connection about different rebar size.
III. Adding length coupler connection,this kind of connection is suitable for the two reinforcing bars which can't be rotated such as construction jobsite,the abutting joint of reinforcement cage,the reinforcing bars all can't be rotated,so it's very suitable for us to choose this kind of connection.
First step,rotate the coupler into first rebar
Second step,rotate the coupler back to the second rebar
Third step,finishing the connection
VI. Left and right thread connection,this kind of connection is suitable for one or two rebars which can't be rotated in the construction projects.The advantage is that we only need to rotate the coupler,then two reinforcing bars can be finished connection.One end of rebar thread is clockwise,anothor end of rebar thread is counterclockwise.The thread of coupler totally match with rebar.When we rotate the coupler,two reinforcing bars would both tighten at the same time.Product size meet:12-40mm rebar connection range.
Adding length with nut connection,it's the same principle with adding length coupler and it's suitable for rebar which can't be rotated.The connection of nut is for fixing effectively.It will not let the coupler do up and down activities this situation happen.
VII. Bar Terminator connection,this kind of coupler is suitable for applying in pre-cast projects such as column pre-cast and wall pre-cast both need this kind of connection.During the pre-cast period,in order to prevent the pouring of concrete,we often put the protection cover inside the coupler to protect the thread inside the rebar.Product size meet:12mm-40mm rebar connection range.
We have American rebar connection, Chile rebar connection, Columbia rebar connection, Egypt rebar connection, UAE rebar connection, Australia rebar connection, Qatar rebar connection, Mexico rebar connection, ACI-318 Rebar coupler, AC-133 coupler, ICC-ES rebar coupler, type 2 rebar coupler, AC-133 coupler cyclic test, ACI-318 mechanical splice, American standard cyclic test rebar coupler, UK CARES rebar couplers, TA1-A test rebar coupler, TA1-B test rebar coupler, AFCAB rebar coupler, ISO15835 rebar coupler, Bartec coupler, DCL approved rebar coupler, Slip test rebar coupler and etc.
Any rebar connection problem , please feel free to contact us.