Bartec Type --- Upset forging parallel thread connect rebar couplers
Bridging rebar splicing— Embedded rebar splicing
First type: LER — suit to connect two fixed reinforcing bars, or two fixed concrete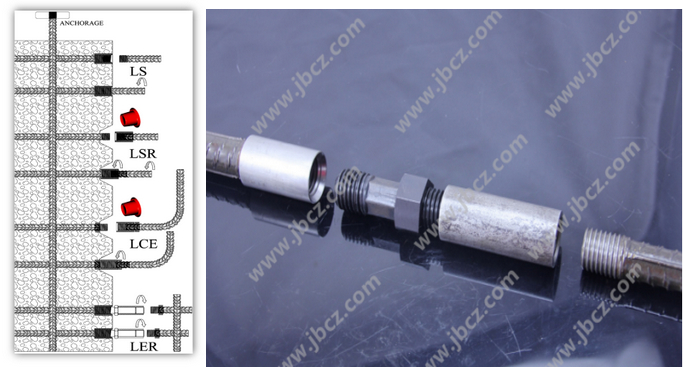 There has two thread rebars which have been processed in the construction site, they are all embedded or have fixed reinforcement cages, such as the above LER connection. The one side is embedded concrete reinforcing bar, another side is reinforcing bars which are fixed in reinforcement structure, this connection doesn't need to rotate two steel bars and can connect two fixed reinforcing bars together simply.
The advantage is that don't need to do adding length thread, or left and right thread in the reinforcing bar. All thread of reinforcing bars are processed normally, pouring in concrete normally, it is very convenient in site construction, and the design of drawing is also more sample and relaxed.
Brief introduction
JBCZ specialize in manufacturing upset forging parallel thread coupler and threading machine:
*Rebar connection range:12-40mm size,it's equal to #4 #12 rebar specification of British standard.
*JBCZ upset forging parallel thread coupler meet the international standard of:
ASTM American standard,BS4449 British standard,BIS-1786 India,JISG3112 Japan,KSD-3504 Korea ,Brazil ABNTNBR480:2007,Ukraine DSTU-3760,France NFA35-016,Europe BS EN10080,etc.
*Chinese national standard type couper(12-40mm)
Product Characteristic:
Bartec is designed for φ12-φ50mm(ASTM#4-#8)parallel thread mechanical rebar connection system.It's according to Eurocode 2,BS 8110,DIN1045,ACI 318,IBC,AASHTO,ASME Sec III Div 2 standard to design and manufacture.
Second type: terminal coupler for embedded connection
Terminal coupler is specially designed for concrete pouring, it is used widely and is an early embedded design. This connection operates conveniently and easily.

Product Advantage:
No occupation rebar area in junction
Give full play to rebar ductile
Easy installation,no need wrench
One coupler can meet all connection requirements(standard/bolted coupler)
Production under strict standard of ISO 9001 and ASME quality warranty plan.Authorized by third part
Totally full trace ability to origin and production batch No.
Type 2 coupler is suitable for earthquake area
Do tests under reverse cycle circumstance
Solve the problem about rebar congestion
No need large quantity to connect the rebar
Applications:

International Department:

Official Email: jb@jbcz.com
You are welcome to contact us!