Bartec type —Upset forging parallel thread rebar splicing coupler
Adding length thread connection ——The best way to butt joint rebar cages that two reinforcing bars can't be rotated.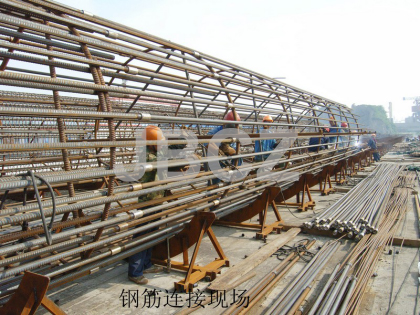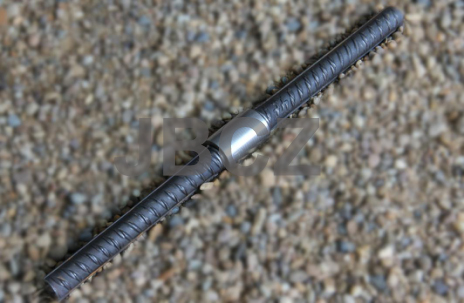 Cold forging connection system
Product Feature

Bartec is parallel thread splicing system which is designed for Ø12 to Ø40mm(ASTM #4 to #8)rebar conneciton. Designed and produced in compliance with Eurocode 2, BS 8110, DIN 1045, ACI 318, IBC, AASHTO, ASME Sec III Div 2
Product advantage
*No reducing of rebar cross sectional area
*Pass elongation test .
*Easy installation , no need torch wrench.
*one coupler can meet all connection requirement
*Manufactured under ISO 9001 standard and same strict quality guarantee.Tested by third party.
*Full traceability of raw material and production batch.
*Tested under several cyclic situation
*No bar conjunction problem happen.
*No large quantity of bars required.
The feature of adding length connection——It is suitable for the connection that two reinforcing bars can't be rotated , butt joint the rebar cage.
In many projects , the most common columns need large and dense rebar cages. During the rebar cage manufacturing , it is a common problem how to butt joint two rebar cage , adding length thread connection can help you connect fast and effectively with good quality guarantee.

Steps
1.Cold forging
The sawn end of rebar is enlarged by a patented cold forging process, the core diameter of the bar is increased to a pre-determined diameter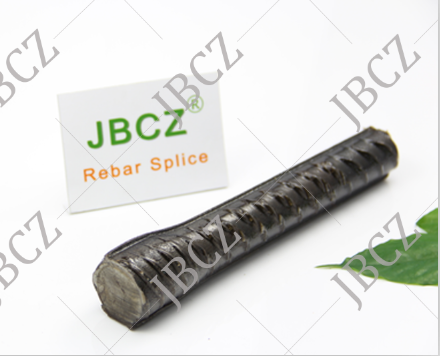 2.Make thread on the ends of rebar , one thread is addling length , the other thread is the standard length.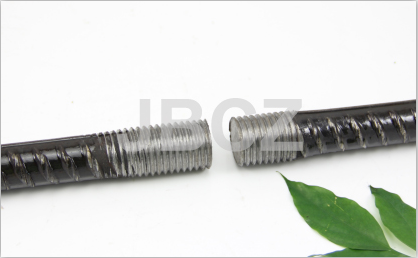 3.Screw the full coupler onto rebar end with adding length thread
4.Finish the connection by screw back the coupler to the second bar.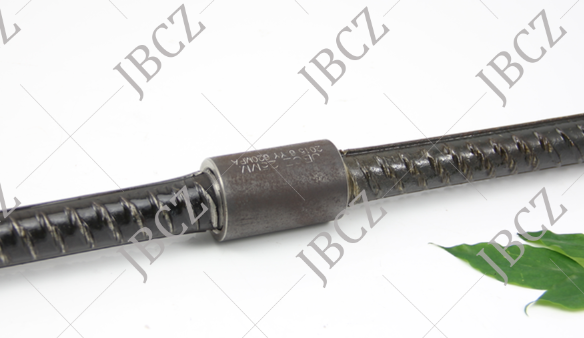 * Upset forging the end of bar play the role of a mechanical extrusion , so the molecular structure is tighter , strength surpass the parent bar, increase the strength value in the tensile.
*The thread cross section area after cold forging is not less than parent bar , the area with thrust surface is larger or equal to the parent bar during the tensile test , so the strength of larger than parent bar.
Upset forging parallel thread connection is the best accepted connection way in the world, also the highest quality connection technology in rebar mechanical splicing, 100% higher than 1.1 to 1.3 times of parent rebar, bear the ultimate test 100% break on the bar outside coupler.
Please kindly find small video , the demo of rebar cage , showed by our international sales person
https://www.youtube.com/watch?v=FqqhlGC3FC0
Matched upset forging parallel thread connection——Coupler
We JBCZ factory produce upset forging parallel thread coupler , the standard type is from 12mm to 40mm, also manufacture 50mm,55mm,60mm superior large size according to client's request.

Standard coupler size table ,(coupler size and raw material can be designed according to client's rebar property and request)
| | | | | |
| --- | --- | --- | --- | --- |
| | Outer Diameter of coupler(mm) | Inner diameter of coupler(mm) | Length of coupler(mm) | Dimension of thread(mm) |
| 12 | 20 | 11.9 | 30 | M14*2.0 |
| 14 | 22 | 13.9 | 34 | M16*2.0 |
| 16 | 26 | 17.4 | 40 | M20*2.5 |
| 18 | 29 | 19.4 | 44 | M22*2.5 |
| 20 | 32 | 20.9 | 48 | M24*3.0 |
| 22 | 36 | 23.9 | 52 | M27*3.0 |
| 25 | 40 | 26.3 | 60 | M30*3.5 |
| 28 | 44.5 | 29.3 | 66 | M33*3.5 |
| 32 | 50 | 31.8 | 72 | M36*4.0 |
| 36 | 56 | 34.8 | 80 | M39*4.0 |
| 40 | 62 | 40.3 | 90 | M45*4.0 |
Test Report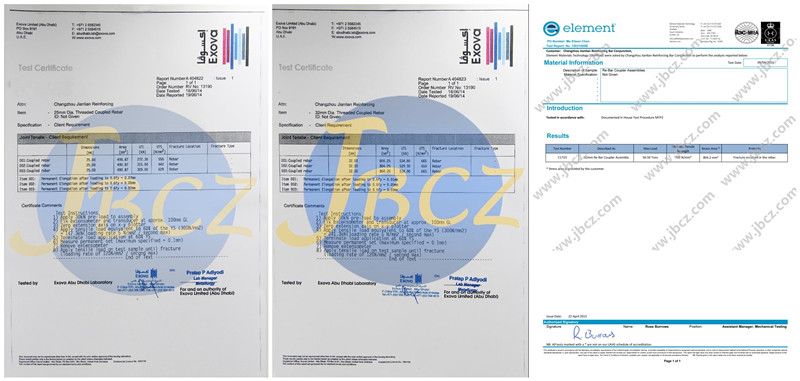 Matched upset forging parallel thread—Rebar thread processing machine
*Standard upset forging parallel thread processing machine.
JBGD --150 JBGZL -45

*CE Certificated upset forging parallel threading machine
*Semi automatic upset forging parallel threading machine
*Large power upset forging parallel threading machine
*Automatic European upset forging parallel threading machine
Project application

Different connection method
2》Adding length connection
3》Right and left thread connection
4》Reducing connection
5》Weldable connection
6》Adjustable connection
7》Epoxy reinforcing bar connection
8》Terminal embedded bar connection
9》Bar connection with big chamfering
1. Upset forging parallel thread coupler quality
800Mpa super strength coupler connection White shinning type coupler Big chamfering coupler

Right and left thread type coupler adding length thread coupler Reducing coupler
(rebar cage butt joint when both (both bars can't be rotated) (Connect two bars with different size)
bars can't be rotated)

Embedded terminal coupler weldable coupler epoxy protection anti corrosion coupler

The coupler production stream line that we have

America ACI-318 standard production line
CNC production workshop
CNC chamfering machine
CNC cutting machine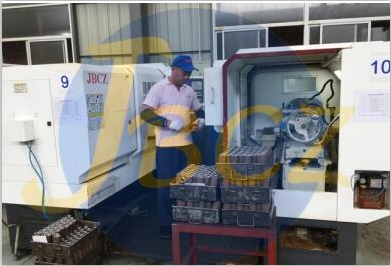 Chinese JGJ107-2010 standard production line
Thread process tapping machine
1:1 make sure the coupler are centre align , manual chamfering machine , CNC cutting machine
Coupler test steps
1. Purchase raw material specified steel factory to produce steel pipe inspect the surface of each batch of raw material before receiving
Inspect the inner hole for each batch Test the hardness for each batch Test the chemical component for each batch , also do the tensile test for each batch of raw material color marked for storing each batch
2. Qualified production Record the products quantity and scrapped quantity for each production step inspect for each 15 pcs coupler by operators
workshop routing inspection per hour , Casual inspection by workshop director each two hours QC director do the casual inspection before storing each day
Warehouse director do the inspection for coupler each day
3. All couplers have the serial number , or client's customized mark , there is traceability from raw material's number , heat number , batch number to the production worker's code of each step , time of putting in storage , delivery time and arriving time , client's inspection , start time of using the couplers, etc.
We have test facilities:
100T tensile test machine with computer

in labortary test machine for hardness Eddy Current Instrument Spectrum mineral analyzer

Go and not go gauge Thread ring gauge Vernier Caliper Ball for testing chamfering 100% bar break during tensile test

Connection methods :
Parallel thread standard splice
Easy connection by bar rotation until full thread engagement . Parallel thread : no risk of thread mis-match. No risk of cross-threading.
Adding length splice
Even when both bars can't be rotated, use a JBCZ standard coupler . The coupler is fully engaged onto the extended thread of the connecting bar.
The assembly is simply completed by butting the bars end to end and screwing back the coupler onto the first bar until full engagement.
Bridging splice
When the end of reinforcing bar can't be closed (such as the situation happened during producing rebar cage) , JBCZ bridging splice is the method to solve this problem. Two ends of bar are threaded the standard length , then a ( bridging connection equipment ) is used to connect two reinforcing bars.
Reducing connection
When connect two bars with different diameters , in most situations , can reduce the rebar size with big diameter , then use standard coupler to connect it . But we recommend special reducing coupler , to avoid the difficult task of planning in advance the need of reducing couplers.
Terminal connection
It is a convenient alternative to hooked bars to provide end anchorages in congested areas. JBCZ standard anchorage heads are circular and have a net bearing area of 4 times or 9 times the cross-section of the bar.
Weldable coupers
For composite construction where concrete reinforcement bars must be welded to structural steel , use JBCZ weldable couplers, which are specially made from low carbon steel and which have a large chamfer for bevel welding.