JB-16-40 Type Cold Extrusion Press Machine:
can process rebar dia. from 16mm to 40mm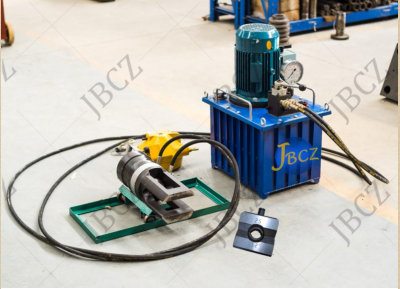 The performance and introduction of cold extrusion press connection:
Cold extrusion press connection, is the earlist connection method of all rebar mechanical connection. It contains the following advantages:
1.rebar screwless connection
2.expoxy coated rebar connection
3.bridge connection(2 million times in fatigue test)
4.one end of rebar has been set into prefabricated concrete, which rebar can't rotate
Cold extrusion press connection, 100% euqal to or higher than rebar, satisfy with: ACI-318, BS4449 and other international standards.
The priciple and method of cold extrusion press connection
1. First prepare the rebar coupler well
(the coupler material must take steel tube as raw material, after the same process method of construction used steel tube, not only does it has some flexibility to make coupler hold tightly with rebar longitudinal rib and transverse rib, but also has good tensile performance. So it must adopt steel tube which is specially processed. Serious quality problem may happen if use raw material purchase from the general market, may lead coupler cracking and fracture when doing the tensile test ).
2. Pressing one of rebars first,pay attention to the stable pressure when pressing.
3. Pressing the second rebar to make the two rebars connedted.

4. Test result is 100% stronger than rebar material.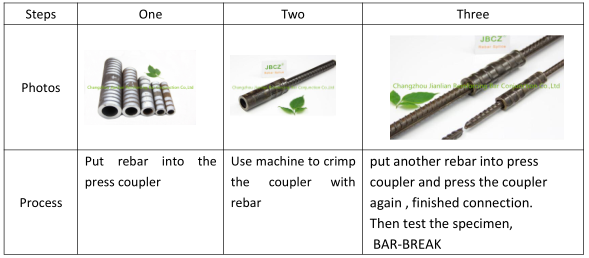 Parameters of cold extrusion press machine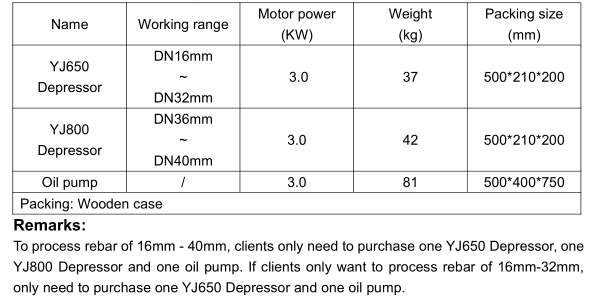 Application projects
Our products can applied to bridge rebar splice, Nuclear power engineering rebar splice, Seawater desalination rebar connection, LNG project rebar splice, Metro rebar connection, High tower rebar connection, Viaduct rebar connection and etc.
Cold extrusion press system is quite popular among clients. Due to its superior anti-fatigue performance, it is widely applied in bridge projects,
such as the world longest sea crossing bridge in 2010- Hangzhou Bay Crossing Sea Bridge, the world second largest water pump station(Saudi Jeddah).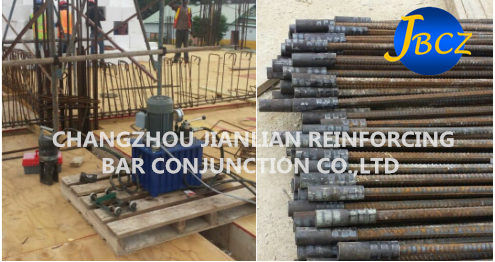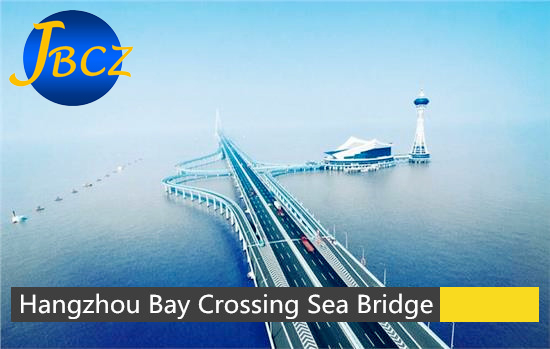 We have American rebar connection, Chile rebar connection, Columbia rebar connection, Egypt rebar connection, UAE rebar connection, Australia rebar connection, Qatar rebar connection, Mexico rebar connection, ACI-318 Rebar coupler, AC-133 coupler, ICC-ES rebar coupler, type 2 rebar coupler, AC-133 coupler cyclic test, ACI-318 mechanical splice, American standard cyclic test rebar coupler, UK CARES rebar couplers, TA1-A test rebar coupler, TA1-B test rebar coupler, AFCAB rebar coupler, ISO15835 rebar coupler, Bartec coupler, DCL approved rebar coupler, Slip test rebar coupler and etc.
Any rebar connection problem , please feel free to contact us.